IqBroker is a popular trading portal because of little to no commissions and fees. There are no hidden costs either. IqBroker profits off of your activities' and operations' coverage in the trading markets. So, the company only makes a profit when your trade is successful.
The few fees include Deposit and Withdrawal fees, CFD-related fees like Dormant Account fines, One-off Cost on Spread, and an ongoing cost Swap fee. These apply across asset types.
The Spread varies depending on a variety of factors like liquidity and volatility, notional trade size, time of day, etc. You are charged a Swap Fee if you keep a position open overnight. The value ranges from 0.01% to 0.5% of the face value of the position, increasing up to 1.7% in extreme cases. It triples between Friday and Saturday.
The Dormant fee applies when you don't use your account for over 90 days consecutively. A flat 10 Euro (or equivalent in another currency) fee is applied on the day of fee deduction. The same gets deducted every month the account remains dormant, subject to it having a sufficient amount.
More details can be found in the General Fees document available on the Terms and Conditions page.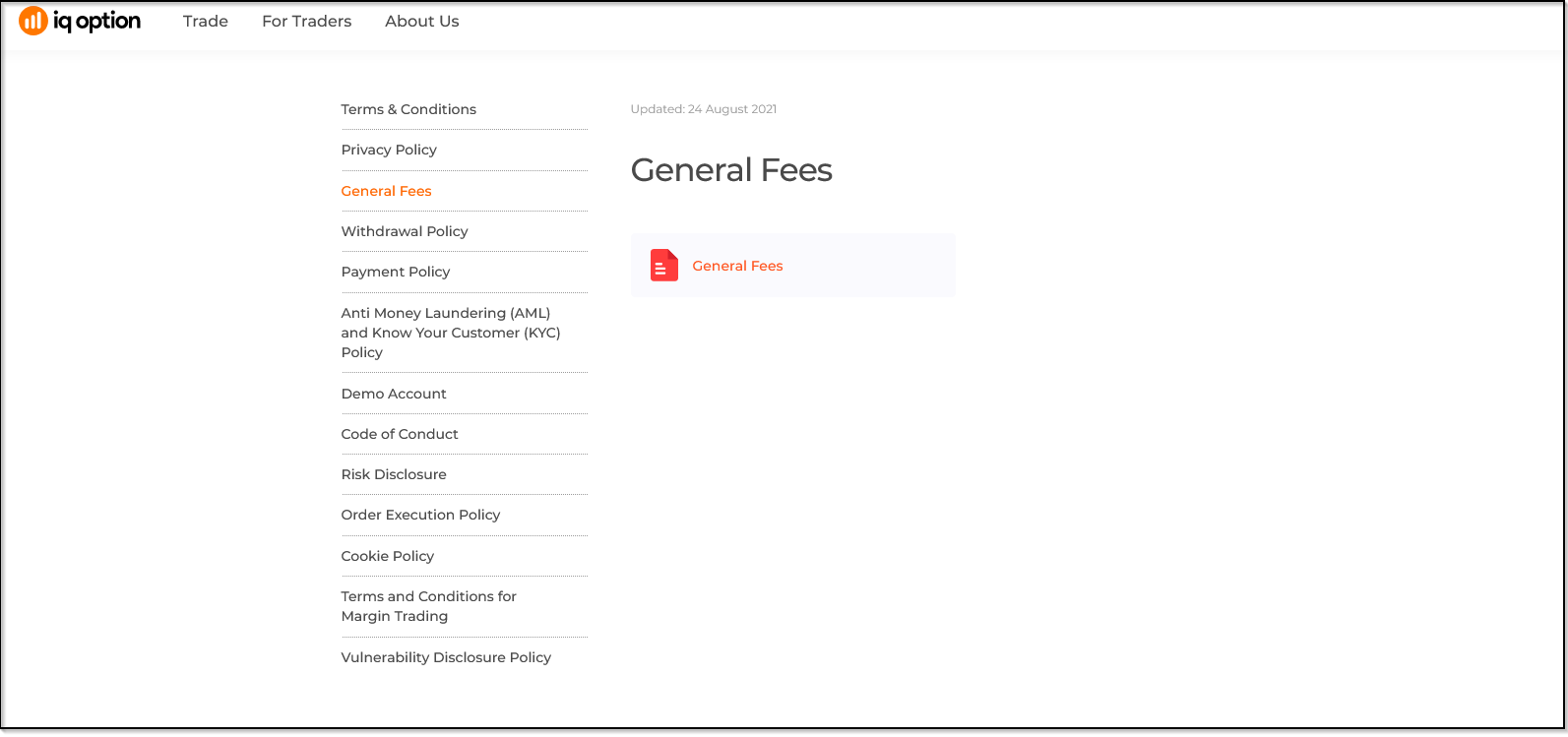 IqBroker Deposit Fees
As an internet-based Trade Broker portal, IqBroker relies on online money transfer service providers for transactions.
IqBroker has partnered with multiple online money management service providers across borders. You can choose to deposit money from your bank account to your IqBroker account from one that's convenient to you.
While there's no commission levied on your deposits by IqBroker, your online money transfer service provider is likely to do it. Check the terms and conditions of your provider.
More information can be found in the Deposits section of the site's Deposits and Withdrawals page.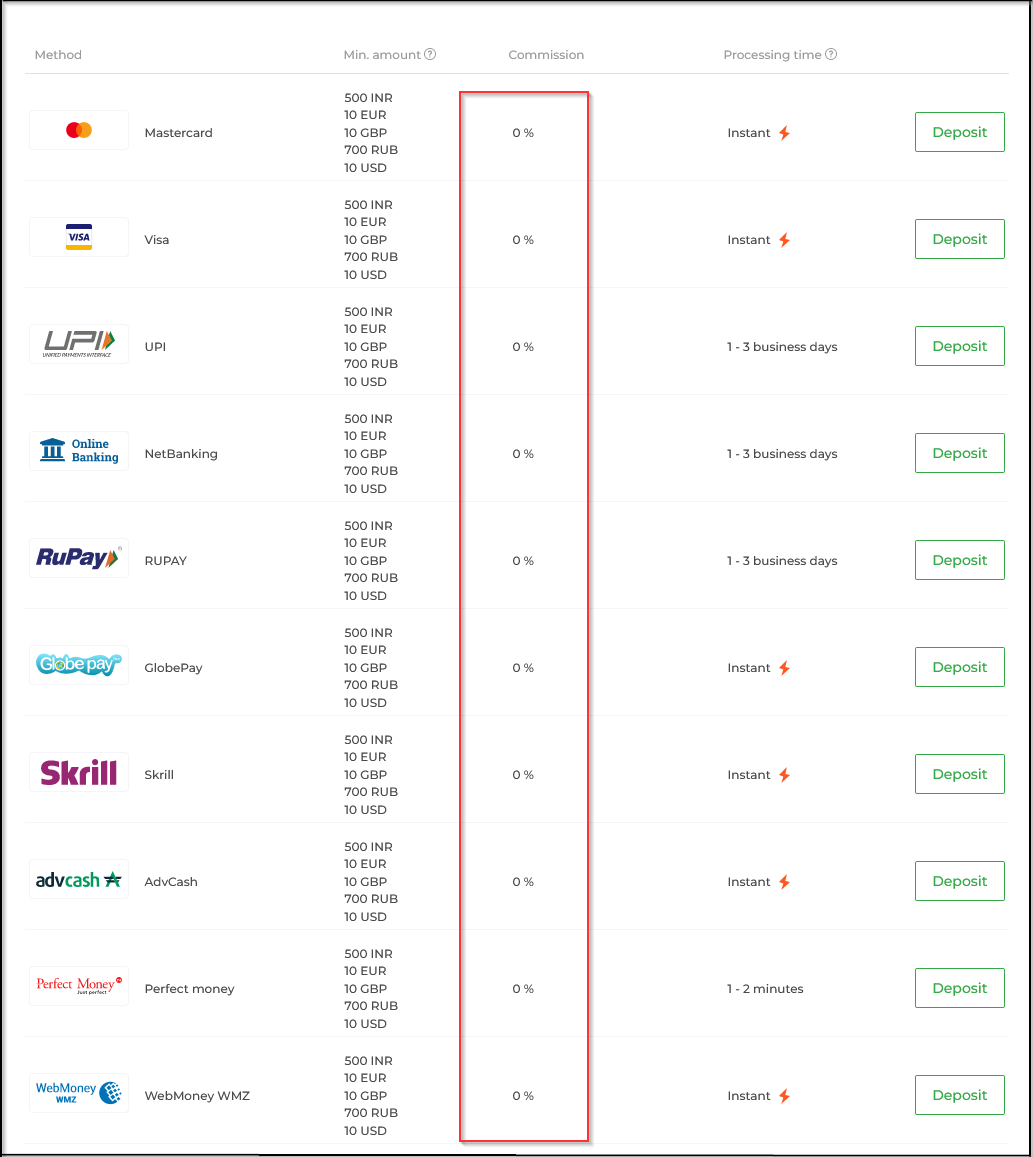 IqBroker Withdrawal Fees
IqBroker's withdrawal fees policy is similar to our deposit fee policy, except for a small 2% commission on every withdrawal. You, however, get one free withdrawal per calendar month.
The withdrawn money gets deposited directly into your associated bank account. The processing period varies depending on the method used, ranging from instant to 3 days.
More information can be found on the Withdrawal section of the Deposits and Withdrawals page.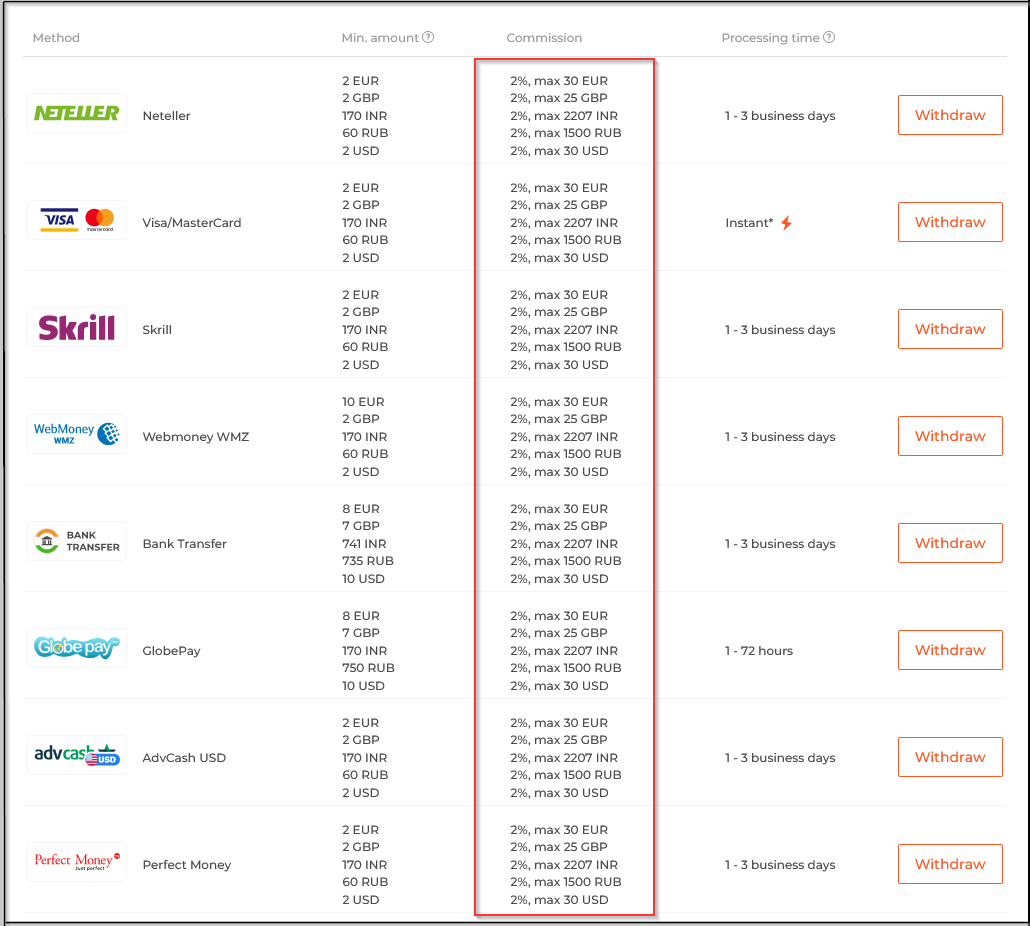 Trading Fees
The main activity of the trading industry is the opening and closing of trades for profit. Brokers charge a fee on this activity claiming it to be their primary revenue source. This trading fee reduces your profits.
IqBroker doesn't charge a Trading Fee. You can trade easily knowing that you'll get what you see on the screen.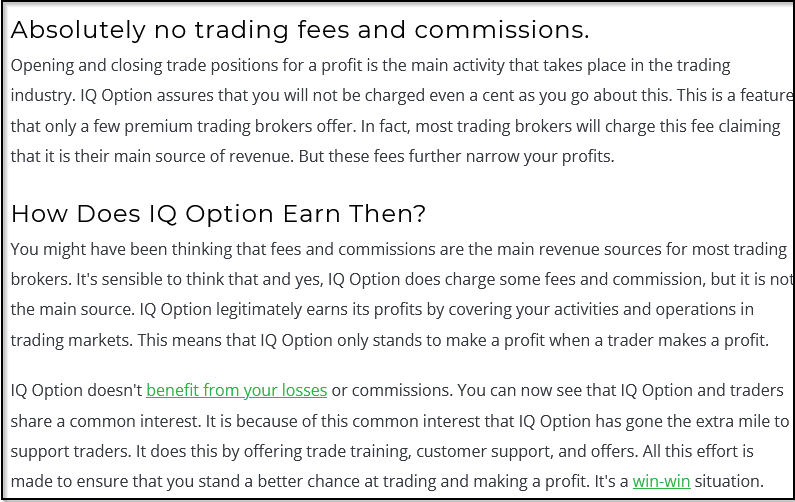 Refund Fees
Refunds are provided to the client whenever deemed necessary. IqBroker will send the money back to your account via the same method used to deposit it.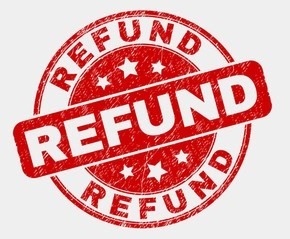 There won't be charges for it but you might be liable to pay the online transfer service for the transfer of funds.
Refer to the Terms and Conditions document for details.
Chargeback Fees
A chargeback is the money returned to a means of payment if one successfully disputes an item on their account statement or transaction report.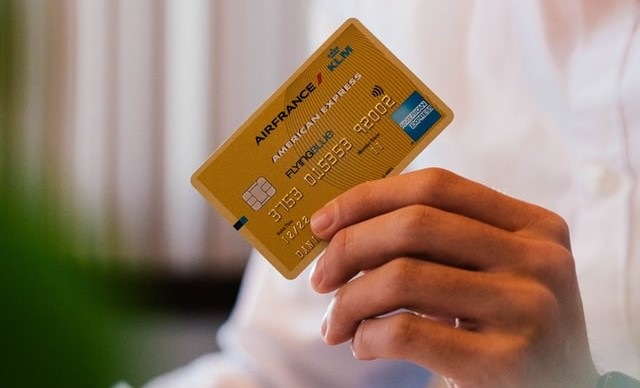 You can initiate a chargeback with your IqBroker account and have the money deposited to your bank account without fees if found to be valid.
Refer to the Terms and Conditions Document for more details.
Transaction Fee
The company doesn't charge any transaction fee for opening and closing trades.
You can trade hassle and commission-free on the platform. Please go through General Fee and Terms and Conditions Documents for more information.